Bonesteak (Indian Style Steak)
Indian Style Bonesteak or popularly known as "Soup Tulang" is a dish of large beef bones drenched with gory-red tomato gravy. You can now prepare your very own "Soup Tulang" with DESSA "BONESTEAK" PASTE.
Sugar, Tomato Paste, Tomato Sauce, Vegetable Oil, Ground Nuts, Curry Powder, Soya Sauce, Chilli Powder, Corn Flour, Salt, Permitted Food Colour, Sesame Seed & Stock.
Boil 2 kg of Bones with Ginger till tender.
Coarsely chop Bombay Onion, Green Chilli and fry lightly with oil. Add in chopped coarsely Coriander Leaves, Boiled Potatoes and Tomatoes.
Add 'BONESTEAK' PASTE, Bones, 200ml Stock & 250ml Water. Simmer.
Garnish with Sliced Cabbage and Green Chilli.
Serving: French Loaf.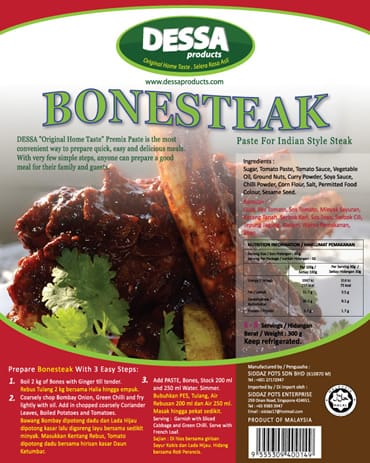 These are some of our must-try instant pastes that our customers just keep coming back for more!