Rendang (Dry Gravy for Meat)
Rendang is made from beef or water buffalo meat slowly cooked in coconut milk and spices. Available in most Nasi Padang stalls, it is a must have during Malay festive seasons. You can now prepare 'Rendang' simply at your own home with DESSA "RENDANG" PASTE for that authentic home taste.
Chilli, Onions, Vegetable Oil, Sugar, Garglangal, Lemongrass, Garlic, Salt, Lime, Tumeric Leaves & Stock.
Mix 'RENDANG' PASTE well with 200 ml thick coconut milk.
Add in 1 medium size chicken or 1.5 kg meat that is cut into pieces.
Bring to boil & simmer to thicken the gravy.
Serving: Served with Plain Rice, Cube Rice, Bread or with Malay Traditional Glutinous Rice (Pulut).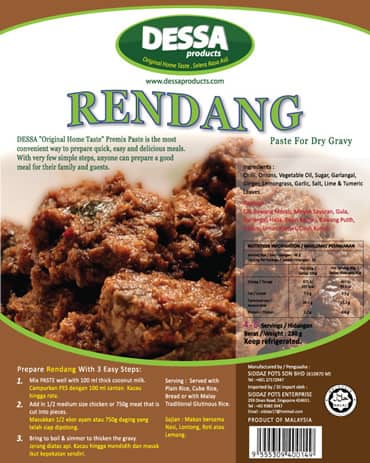 These are some of our must-try instant pastes that our customers just keep coming back for more!