Soto Ayam (Chicken Soup Noodle)
Soto Ayam is a dish of spicy chicken soup with either vermicelli, yellow noodles or compressed rice (lontong). Served with spicy chilli padi, it can now be prepared simply with DESSA "SOTO AYAM" PASTE for that authentic home taste.
Onion, Ginger, Curry Powder, Cumin, Cloves, Coriander, Vegetable Oil, Sugar, Salt, Pepper & Stock.
Heat 'SOTO AYAM' PASTE with 3 litres water and add 1 whole chicken. Mix well.
Boil till chicken is well cooked.
Serving: Noodles or Cube Rice, Shredded Chicken, Chilli in Black Sauce, Onion Flakes, Chinese Celery and Spring Onion.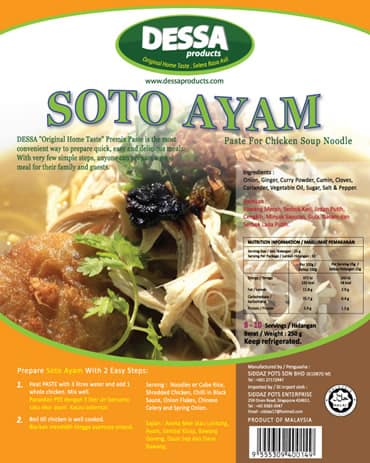 These are some of our must-try instant pastes that our customers just keep coming back for more!