Laksa Johor (Laksa Noodle Gravy)
Laksa which was originated from the Peranakan culture is much loved by the locals. The Laksa Johor, which derived from Asam Laksa is uniquely served with Spaghetti noodles. You can now prepare your very own "LAKSA JOHOR" with DESSA PASTE for that authentic home taste.
Vegetable Oil, Onions, Steamed Fish, Lemongrass, Curry Powder, Grinded Coconut, Garlic, Garlangal, Dried Shrimp, Salt & Stock.
Mix 'LAKSA JOHOR' PASTE well with 1.5 litres water.
Add in 200-250ml thick coconut milk.
Stir well and bring to rolling boil.

Serving: Spaghetti Noodles, Bol: Polygonum Leaves, Small Lime, Chilli Shrimp Paste, Slices Onion & Cucumber, Chinese Celery & Spring Onion.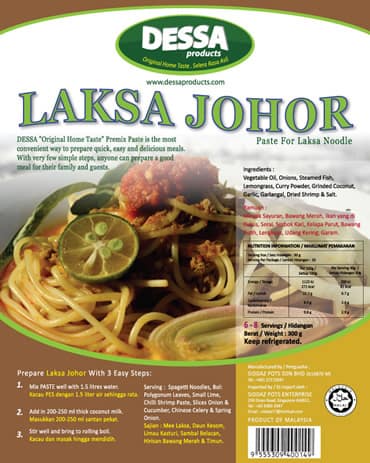 These are some of our must-try instant pastes that our customers just keep coming back for more!